Working Together
Webdesign, Development, Marketing everything from one hand!
From the concept to the finish.
We support you the complete way!
We are young, dynamic and we know what you need!
About Us
KILLERFISH eSport
KILLERFISH eSport was founded on 01.01.2011 as a German-speaking organization.
As the official factory team for energy drink manufacturer and simultaneously name giver KILLERFISH Hot Energy we operate successfully on PC and console, what fundamentally distinguishes us from many other German organizations. .
A Closer Look
Design and Graphics
We ♥ love to create something special for you. You will from the outset be integrated into the project to create it according to your wish
Marketing & Promotion
You search yourself on google?
Not found?? We help u to get a better rank!
Seo optimization is our gift to you!
Development
Applications, websites, unique Systems…
We are not just programmers.
No, we are really nerds! We fulfill your desire!

Project in progress
in-Zane.de
Design
We recreated our Design from zero.
And this is what you get now!
Development
We optimized our System with a new
Content Management System
Server
We also buyed a new Server for better Performance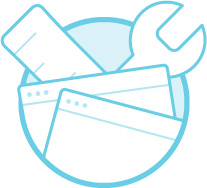 Planing
Development
PHP, JAVA, C#
Webdesign
Adobe Photoshop
Marketing
SEO, Google Analytics …